Heli will be once again at the start of the 1000 km "Kom op tegen Kanker" (Come on against Cancer) in 2019
in
News
Written by Bram Van Gansberghe
A Heli team cycled the 1000 km for the first time on Whitsun weekend in 2018. We fastened our bike helmets, clicked our shoes into our pedals and pedalled onwards in aid of the fight against cancer. It was great! What was the result? Our team will be at the start of the 2019 event, which is already fully set up.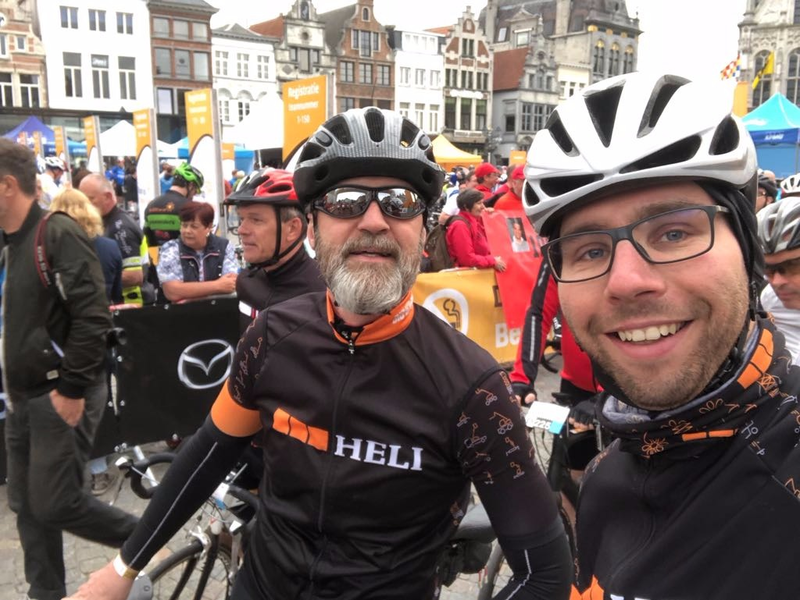 The 1000 km "Kom op tegen Kanker" event comprises eight 125-km stages, two per day. Those stages are ridden in peloton, and each time one rider in the team cycles a stage. You can choose a 24, 27 or 30 km/h peloton. If you are the sole member of a team, you do all eight stages. If your team comprises multiple members, you divide the stages among yourselves. Each team may have maximum eight cyclists.
New record
If you want to participate, your team must raise at least 5,000 Euro for the fight against cancer. Actions, donations, sponsoring, etc. are a few good ways to collect that money.
A full 986 teams took part in the ninth edition of the 1000 km weekend event in 2018. They and a multitude of supporters and volunteers made the event a huge success. They even exceeded the wildest expectations and collected 4,930,000 Euro, another record.
Fruit, bandanas and sponsoring
We set of each time from Mechelen, the host city, heading for the designated target city for each afternoon: Boechout, Leopoldsburg, Zottegem and Harelbeke, and cycled back to Mechelen from each.
A few of our braver colleagues at Heli cycled a full 250 km day trip, while others rode a 125-km stage.
To raise funds for this initiative, we sold fruit packages and original BUFF bandanas in the Heli cycling team style. And we enjoyed generous financial support from some of our suppliers, for which we would like to thank them.
The 2019 edition is already fully set up and Heli will be back with a team at the start! We will set up new campaigns to raise funds in the Autumn.
Ontdek meer artikels over
News
Nieuws overzicht